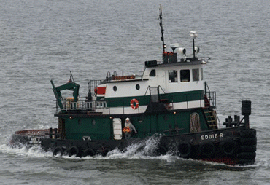 Our cutting-edge Emergency Response Training program is designed exclusively for the Marine industry. This unique in-person training program prepares your workforce to handle critical situations confidently and efficiently, keeping your crew and vessel safe.
Emergency Response Training Video Clip #1 - Explanation of Flags
CERTIFIED INSTRUCTORS -- IMMERSIVE DRILLS
Our comprehensive training program combines theoretical knowledge with practical hands-on exercises, equipping your team with the skills necessary to effectively respond to emergencies on the water. Led by our team of experienced and certified instructors, this immersive training experience is tailored specifically to the unique challenges faced by you.

Our certified instructors will create training based on the emergency equipment on your vessel to ensure your crew is fully aware of how to use the equipment properly in each emergency. A vessel working at a dredge shoreside has much different emergency equipment requirements than an offshore vessel, which doesn't have access to immediate assistance and has to protect itself. This is not a cookie-cutter training approach. Each vessel, each company, and each area has specific requirements and our instructors will ensure that your training is based on the crews' skill set, capability, and equipment available for emergency response.

Video Clip #2 - Training Description
QUARTERLY TRAINING VISITS
Every quarter we will update the training with your crew, train new crew, ensure trainings are completed properly and answer any questions.
We also offer a "Train the Trainer" option to allow your team to run all the drills independently. No matter what you choose, our safety instructors work alongside your crew on deck to ensure everyone understands the steps to be taken in case of any emergency.