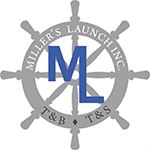 TBS Safety is excited to announce its newest client, Miller's Launch, a full service marine company out of Staten Island, NY.

Miller's Launch and its affiliated companies Miller Marine, Miller's Tug and Barge and Miller's Towing and Salvage are marine support companies with local offices on the East Coast and the Gulf Coast. Miller's Launch has worked with wind developers, the US Government, construction managers, award-winning film crews as well as research and engineering experts who rely on them for equipment, planning and support to complete their projects on time and on budget. Their fleet includes Tug Boats, Rib Boats, OSV, Crew Boats, Barges, Launch Boats, Utility Boats and Work Boats.
Miller's Launch is working with TBS on creation and installation of the Helm Environment as well as Audits and Surveys, crew training and consulting services.
Welcome Miller's Launch to the TBS Safety Family!